About Us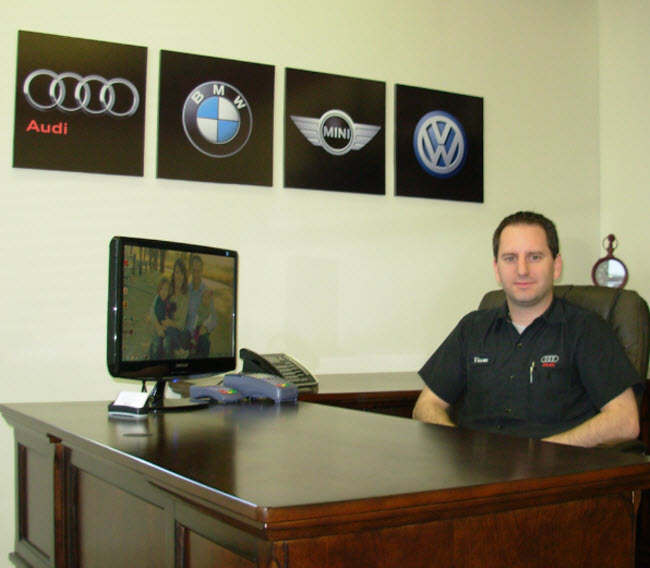 I am Vincen Gillespie owner of German Auto Specialists located in the center of Salt Lake Valley. Specialized in repair and maintenance of: Audi, BMW, MINI and Volkswagen. My objective in opening an auto shop that is limited to only four German auto makes is to give customers a dealership style experience without the dealership price. I have twelve years of professional auto repair experience. Eight of those years spent primarily working on German makes. During my six years as an Audi dealer technician I achieved the highest level of Audi certification, Master Guild. On top of that I am an ASE master technician. What I mean by dealership style experience is that you will get someone that has worked on your make and model and has the skills, experience and tools to fix it right the first time. Best of all you will not pay the dealer price. So if you live or work around West Jordan Utah you don't need to go any further to find a highly capable Audi, BMW, MINI or Volkswagen specialty shop.
We service and repair the following makes:
Audi Repair
BMW Repair
Jaguar Repair
Land Rover Repair
Maserati Repair
Mercedes-Benz Repair
Porsche Repair
Range Rover Repair
Saab Repair
Smart Repair
Volkswagen Repair
Volvo Repair
Our shop uses web technologies by AutoVitals in conjunction with ALLDATA.
We are able to personalize your service interval based on how you drive and post authorized reviews from our customers for your benefit. Please explore below a growing selection of auto repair and collision shops, which follow our lead.